Hoe laat je een parkiet badderen onze 5 tips
Je parkiet laten badderen kan moeilijk zijn, maar de beloning dat je parkiet schoon is is de moeite meer dan waard. Bedenk dat je het bad in de loop van enkele weken misschien verschillende keren moet aanbieden voordat je parkiet besluit het te proberen.
1. Een hang badje
Het ophangen van badje in de kooi kan een heel comfortabele manier zijn voor je parkiet om te baden. Niet alleen zijn ze veilig in hun eigen huis, maar het bad doet een beroep op het deel van hun wilde hersens dat het als een heel natuurlijke manier van baden ervaart.
2. Sproeien
Gebruik een kleine nevelfles om je grasparkieten lichtjes met water te besproeien. Om schimmel te voorkomen, moet je het flesje tussen gebruik door helemaal legen en drogen. Afhankelijk van hoe je parkieten reageren, kun je ze lichtjes boven hun kop spuiten zodat ze het niet merken, of je kunt ze direct bespuiten. Sommige parkieten groeien op om op deze manier van baden te genieten.
3. Groenten op een ondiep bord
Neem wat donkere bladsla, boerenkool, of een ander groente, was het grondig, en leg het op een ondiep bord. Giet een beetje water over de groentes en het bord. De eerste paar keren dat we dit deden moest ik de parkieten in het water lokken. Toch is dit heel natuurlijk voor ze als ze eraan gewend zijn.
4. Stop je handen onder de kraan
Zorg ervoor dat de waterdruk niet te sterk is en het water niet te heet. Als je eerst één hand doet en je je hand in het water laat rondspetteren, is het misschien gemakkelijker om belangstelling op te wekken. Sommige grasparkieten vinden dit leuk, maar meestal drinken ze gewoon veel water en baden niet!
5. Catit Flower Fontein
Deze fontein is onlangs populair geworden in een Facebook parkietengroep waar ik bij hoor, dus ik moest hem een kans geven! Hoewel ik niet kan zeggen dat het een onmiddellijke hit was zoals het voor anderen geweest is, hadden we toch een paar nieuwsgierige parkieten die er graag uit dronken. Het was erg leuk om te proberen, en als je kattenvrienden hebt, kun je het altijd aan hen cadeau doen als je parkieten het niet lekker vinden.
Dus daar heb je het, de uitgebreide lijst van bad-ideeën.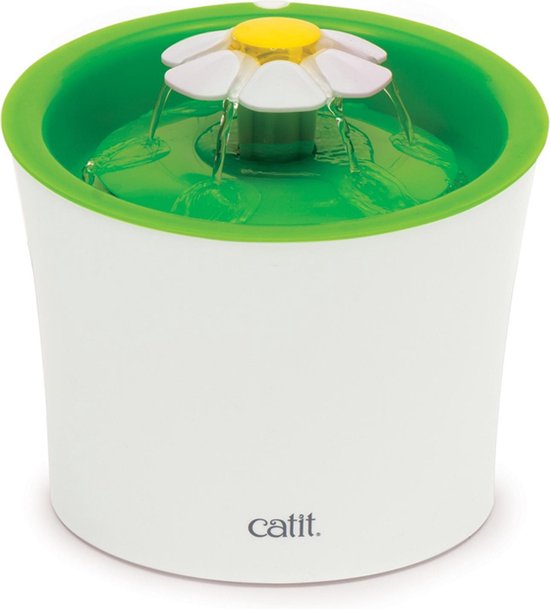 Vogels waarbij het kan werken
De volgende vogels kan je op deze manier proberen te laten badderen.